Goal
Using Axure I created a wireframe prototype of a task management tool aimed at helping college students keep track of their school work and personal life. The tool allows for to do lists to be created, articles and information to be saved, and groups to be formed with assigned tasks.
Intended Users
The tool is centered upon college students, because college students live busy and hectic lives, which can make it difficult to keep track of important tasks, like assignments and job application deadlines.
I started off by brainstorming what tasks a college student would want to be able to complete with a management tool. I also thought about how college students go about their daily lives. They're constantly being asked to juggle multiple things at once and keep track of important due dates, which can make life stressful and hectic. Since everyone has their own way of organizing their schedule, I also wanted the management tool to be easy and flexible to use.
Researching
After creating a list of possible tasks and user needs, I researched online about current management tools that are being implemented within people's lives. I found several tools that utilize a post it like functionality in order to categorize each task and allow users to easily group the tasks.
Sketching
Based off of the research I conducted, I created an outline of the navigation of the tool. I depicted what would be implemented within the menu section of the tool as well as what users would be able to view from the homepage and where they would be able to navigate to from the homepage. This outline helped me create various sketches of each view. I created sketches of the homepage, collaborative page, adding a task functionality, the calendar view, and the saved view.
Creating
From the sketches I created, I started to form wireframes within Axure. I utilized the various tools within Axure to create placeholders for images as well as implement the possible text that would help identify each of the sections of the tool. After I created the wireframes of the tool I worked with Axure to also create several interactions. For the purposes of the wireframe, I only created interactions that linked pages together and would allow users to add a task. I wanted users to also be able to move around tasks and different post its; however for the purposes of this wireframe, I believed that only linking the pages together would sufficiently display a majority of the interactions of the tool.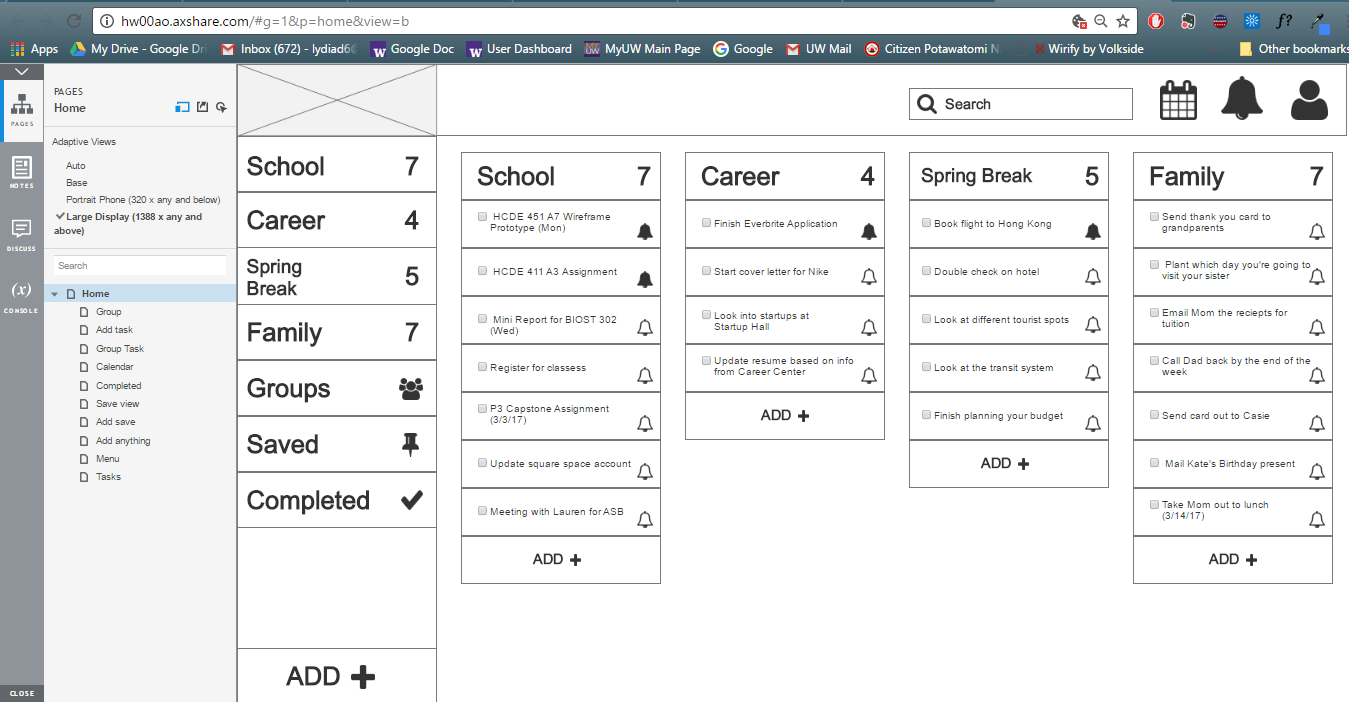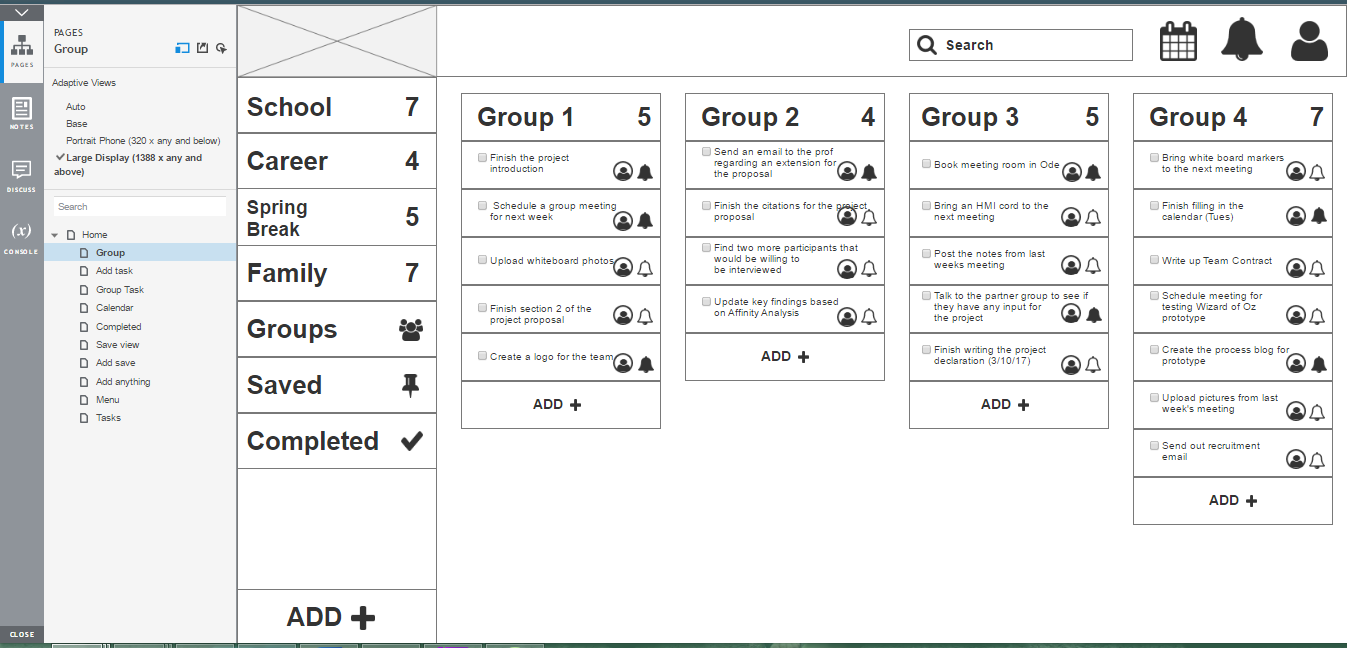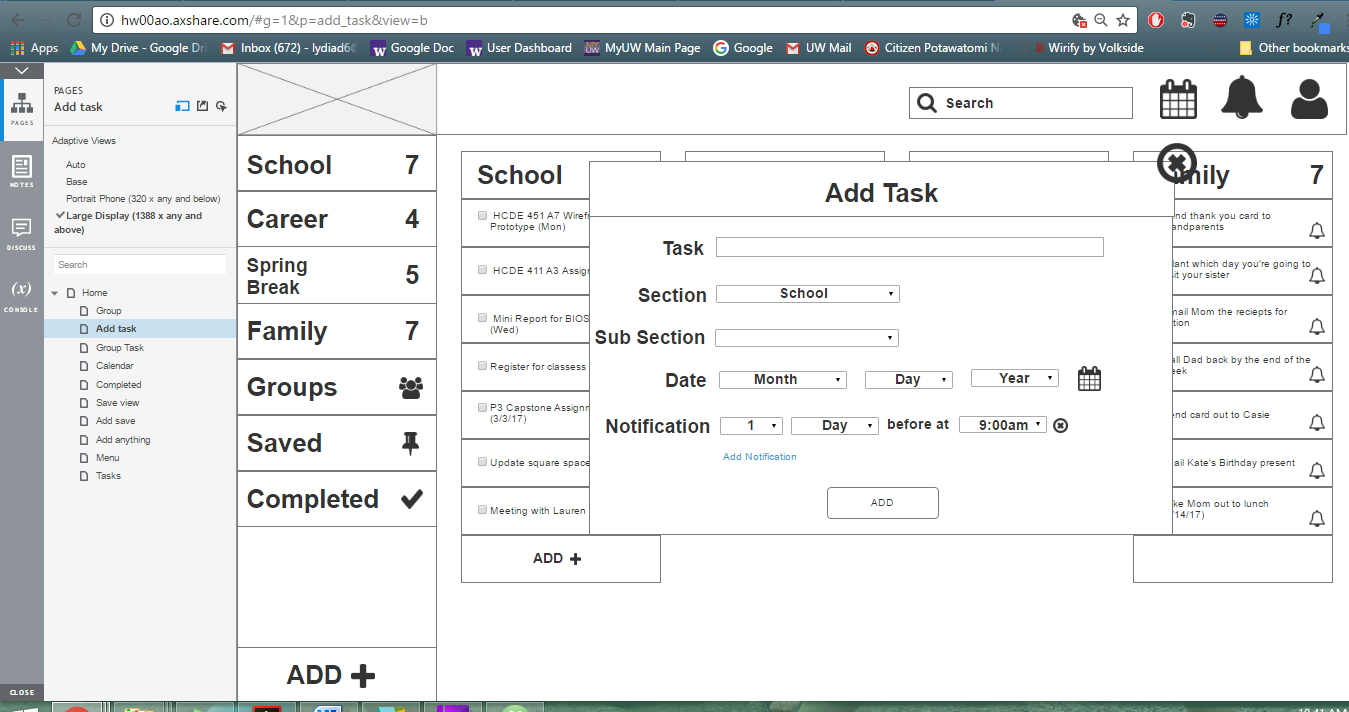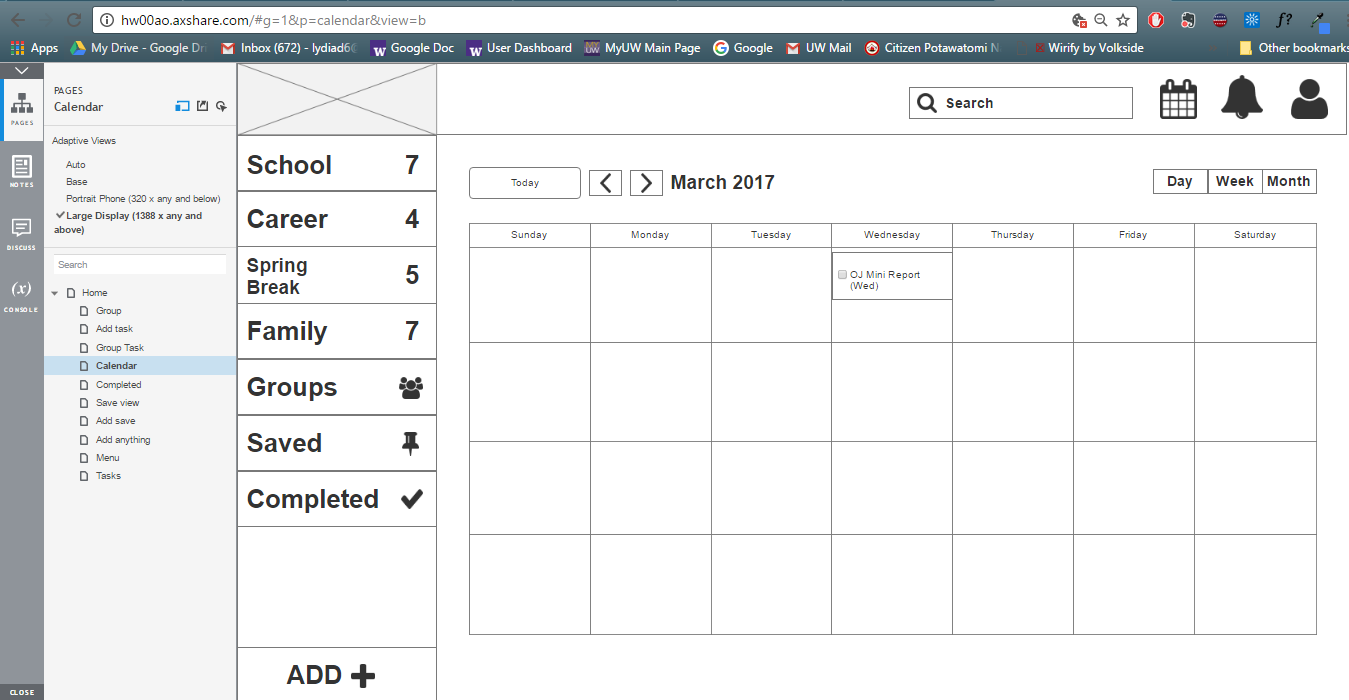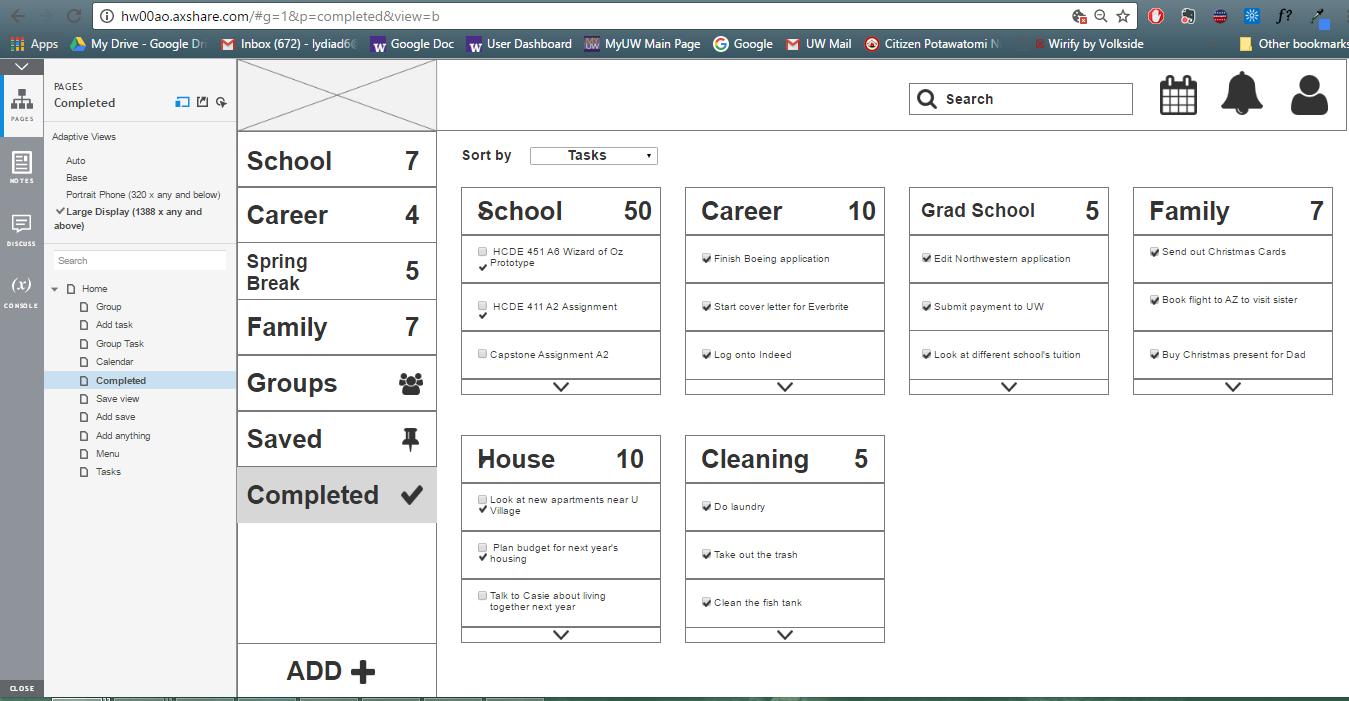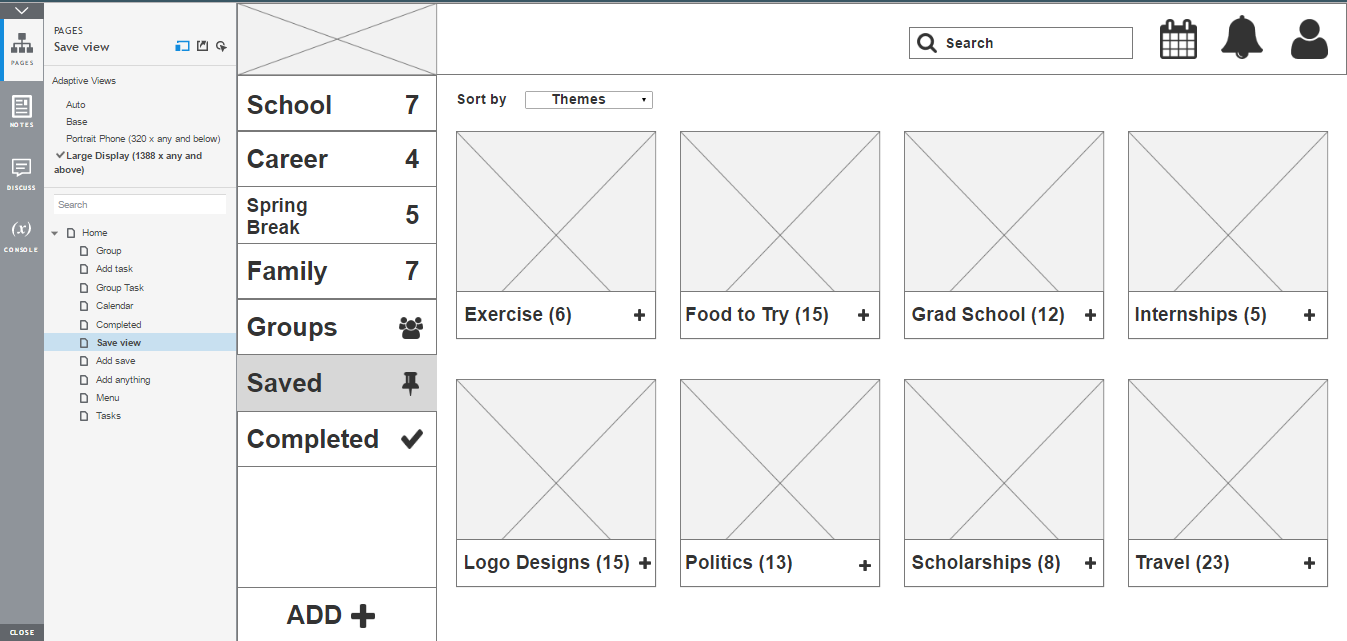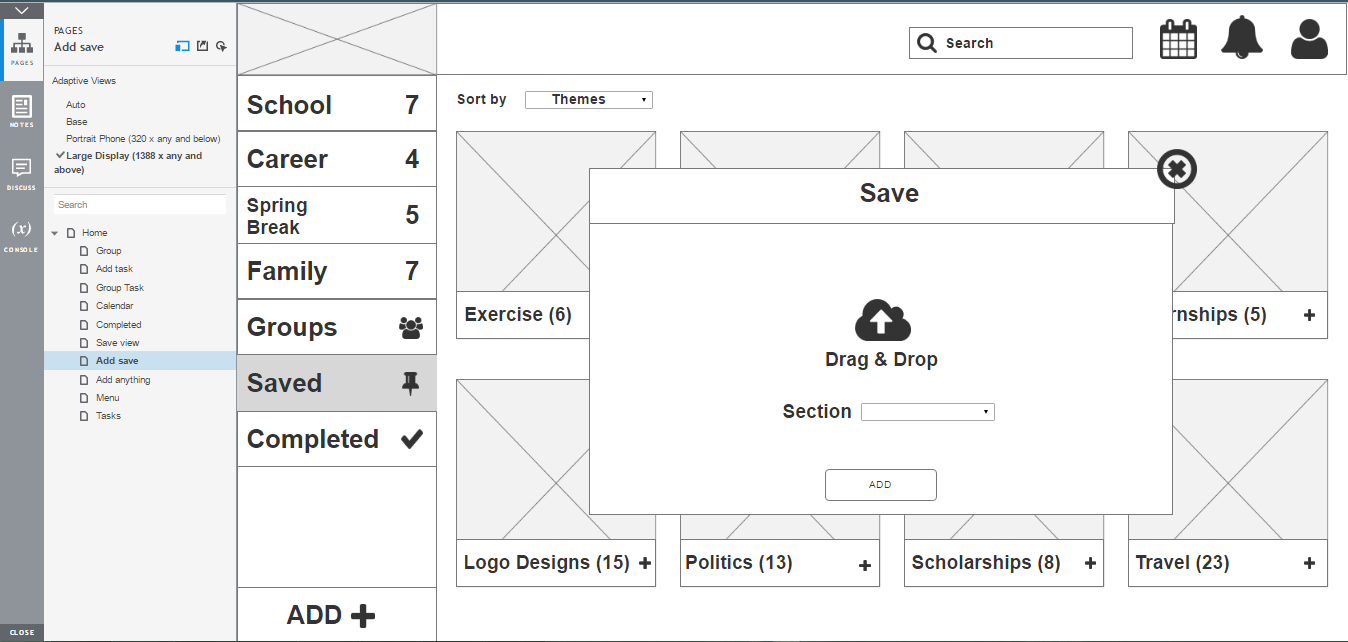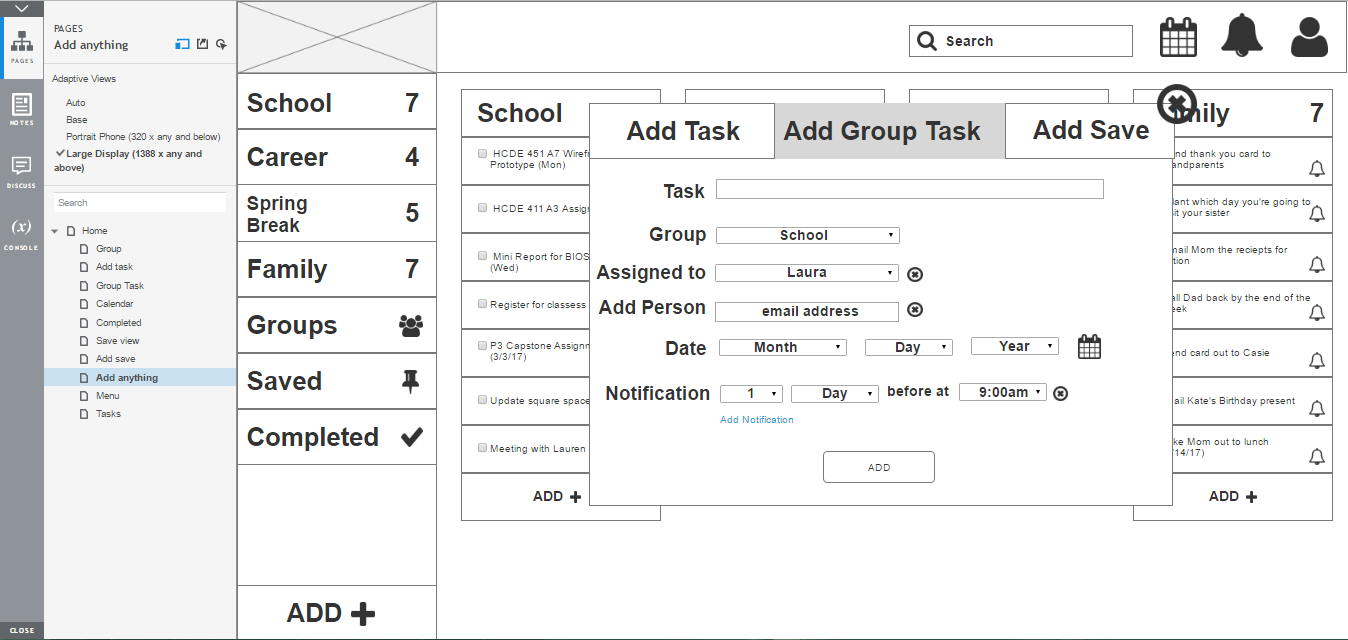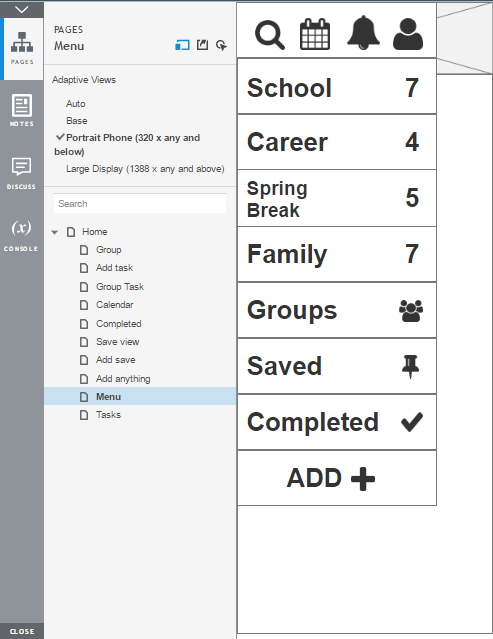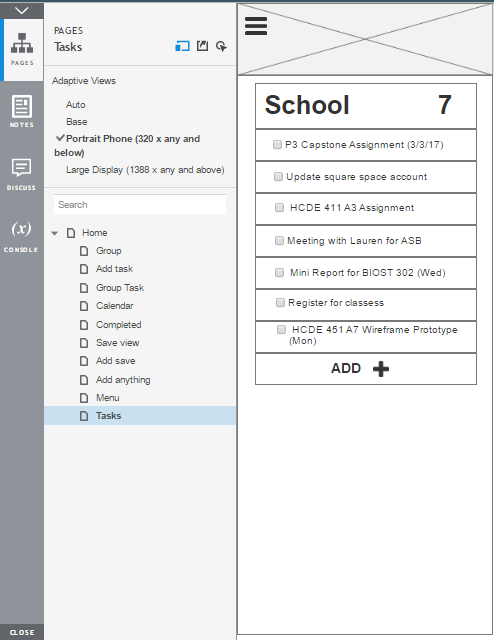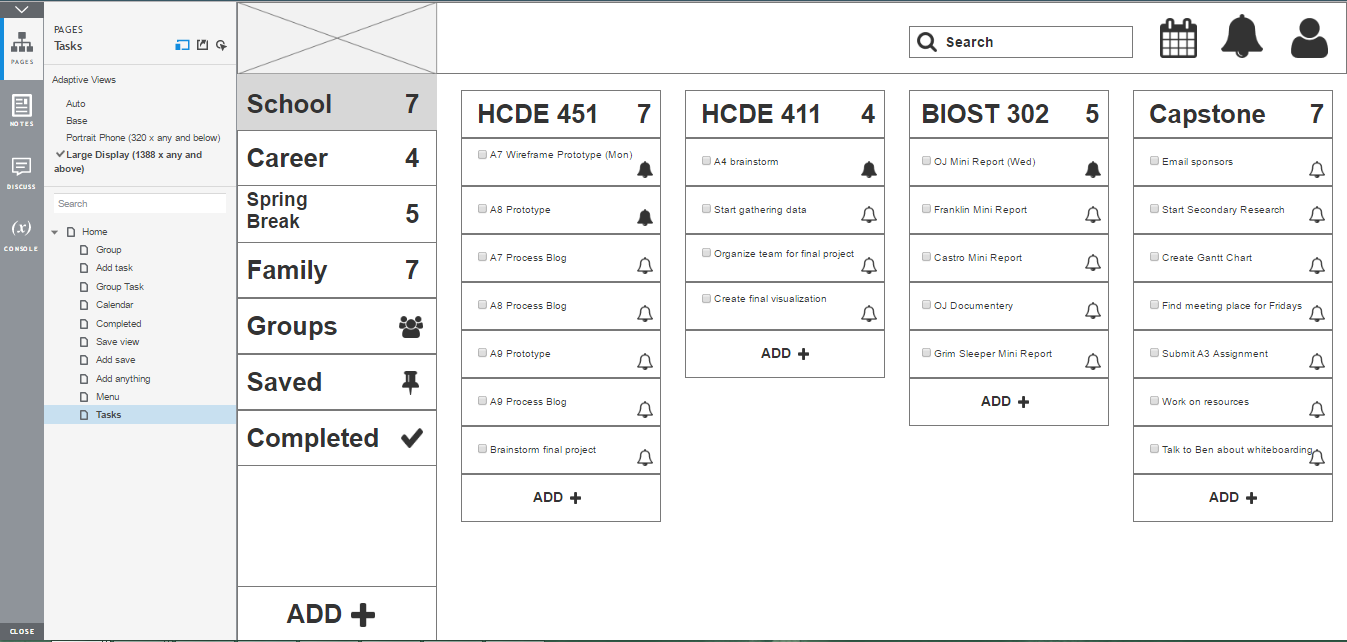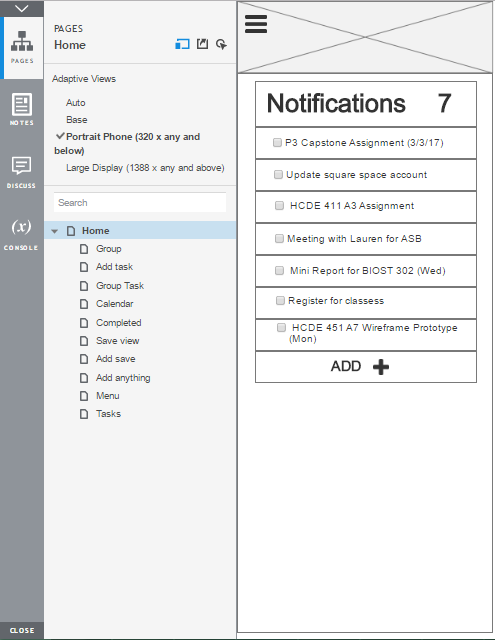 View my wireframe online with interactions
Critique
My wireframes were critiqued by a peer, who complimented me on the utilized of the side panel, while also giving me helpful feedback on how to make the tool easier and quicker to use. The peer mentioned that adding a task seems like it would take a while or be tedious for the user to add several tasks. They mentioned that task managers could really be successful if they allowed users to take less time on the task manager itself and more time on completing the tasks on it. Additionally, they mentioned that it is unclear what the "Saved" section is and why it is relevant to users. Lastly, they mentioned that they liked the "Groups" category, especially the ability to assign people to each task.
Outcome
Successes
This was my first time utilizing Axure and I found that creating interactions within Axure was easier than I was anticipating. I found that using the "Properties" and "Add Case" functionality was easy to implement within the wireframes I created as well as easy to interpret.
Learned Lessons
I feel like I created the wireframes inefficiently. I don't have as deep an understanding of Axure as I would like, which made me feel like I had to do some extra work in order to create the wireframes. I felt like I was copying and implementing similar features within multiple pages slowly, due to my lack of understanding of the "Masters" functionality within Axure. I want to continue exploring Axure in order to gain a better understanding of how to effectively us my time and create wireframes quickly.