Nature Calls
Improving the communal dorm restroom experience
Project Focus
Communal dorm restrooms lack sanitation, ample privacy, and comfort for its users. We wanted to redesign the experience of communal dorm restrooms. We begin by redesign the physical restroom, however as the project continued we transitioned to designing a mobile application for college students to use. The mobile app, Nature Calls, alerts students of restroom availability and cleanliness.
Intended Users
Nature Calls is intended to serve college students who are utilizing communal bathrooms. College students are bombarded with homework, jobs, studying for exams, and other responsibilities, so we wanted to eliminate any additional stress by providing them with an exceptional user experience, regardless of the fact that it is a communal dorm bathroom.
My Role
Project manager
Paper prototyper
Annotated wireframer
Usability testing lead
Key Skills
Design research
Personas
Scenario creation
Storyboarding
Site Mapping
Paper Prototyping
Annotated Wireframes
Usability Testing
Key Tools
Balsamiq
Omni Graffle
Proto.io
Adobe Photoshop
Powerpoint
Wix
Wordpress
Outcome
Nature Calls provided me with my first opportunity to create a project using a design process as well as learn new skills and practice designing projects that are human centered. At the end of the project we presented Nature Calls to our peers as well as industry professionals from Blink and Amazon.
Process
Research
We conducted research with college students regarding their dorm bathroom experience through utilizing online sources such as blogs and through conducting interviews. Research helped us identify that students often feel that dorm bathrooms lack privacy and cleanliness, which detracts from their bathroom experience. From this initial research we were able to establish our personas as well as focus our project on increasing the comfort levels of students who use communal restrooms.
Personas
The personas are meant to represent and communicate how a group of users behave and think as well as what they want to accomplish with the product.
Radric is a sophomore and can easily slip in and out of a crowded bathroom. He is somewhat messy and wants a bathroom that can clean up after him and that he can treat as his own.
Jessica is a freshman in college and is used to having the bathroom all to herself. She wants to be able to take as long as she wants in the bathroom, doesn't like being crowded, and expects the restroom to be clean.
View our personas more in-depth
Scenarios
We created scenarios focused on how the product meets the goals and expectations of the user through these interactions. The purpose of this exercise was to identify what the user should expect to happen as a result of using our design.
View the scenarios that I created
Design Sketches
We created initial design sketches of our proposed bathroom remodel. We focused on creating a self-cleaning shower stall, a dual drain system to filter hair, and an intuitive toilet stall. The shower stall and toilet were aimed addressing privacy and efficiency, while the dual drain focused primarily on increasing the cleanliness of the shower environment.
Storyboards
Our storyboards show how a user's current routine or activities are affected by the product design. We each created three storyboards utilizing the personas we defined.
View my storyboards
Sitemap
Before creating our site map we met several times with our professor, Dr. Brock Craft, and our teaching assistant, Robert Racadio, to discuss the future of our project. We decided that our team should transition to creating a mobile application in order to fully practice and utilize paper prototyping and user testing, which was a requirement of the course. We began to create the app Nature Calls and produced a site map that allowed our team to better understand and organize the information architecture of Nature Calls. The site map planned out and structured the personas of our users to create an organized hierarchy of data and information.
Paper Prototype
Our paper prototypes for Nature Calls displayed available bathroom stalls, the cleanliness of the bathroom, when the bathroom was busiest, and allowed users to provide reviews on the bathrooms. For Nature Calls we chose to focus on the cleanliness and efficiency.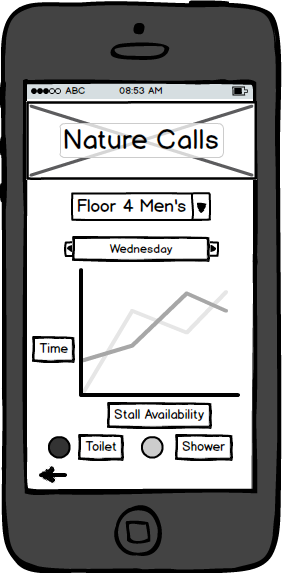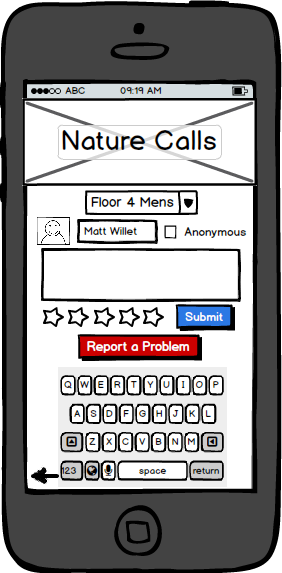 Evaluating Findings
We asked target users to try out our paper prototypes while we took careful notes of what worked well, where our users struggled, and which ideas and screens of Nature Calls they liked or disliked. We compiled our data and notes into a formal evaluation, which stated our findings from our user testing and our responses and resolutions based on the feedback we received.
View our findings
Annotated Wireframes
After completing our evaluation, we modified our screens and transitioned our rough paper prototypes into a more polished, plain representation of our screens through wireframes. We added annotations that focus on components that are not immediately obvious, explain our rationale for design decisions, as well as aid in understanding the flow of our product. Additionally, we created a visual interface state transition diagram that illustrates a key path scenario. The scenario displayed is the path that a new user would take when logging into the application and then viewing how busy the bathroom is.
We had the opportunity to be critiqued on our annotated wireframes and our key path by our classmates. From there we gathered useful feedback and edited and refined our annotated wireframes in order to create a better high-fidelity mockup. We continued to cycle through the framework and refinement steps of the design process before arriving upon our final designs for the course.
Below are several of the high-fidelity mockups that we created for our final course presentation