Envision a World
Imagining a healthier world through visual design
Project Focus
I partnered with GlobeMed to creating a poster design that the organization could place in their partner universities around the United States to attract students to join and participate in GlobeMed.
Intended Users
This project was centered on catering towards younger adults, primarily those that are in college settings.
My Role
Visual Designer
Physical Prototyper
Key Skills
Visual Design
Adobe Suite
Physical Prototyping
Key Tools
Adobe Illustrator
Adobe InDesign
Screen Printing
CNC Router
Laser Cutter
Outcome
I created a heavy duty poster, focused on providing users with an interactive experience. The poster, while made out of wood, is light weight and could be delivered as a kit and assembled at universities to promote GlobeMed
Process
Ideation
GlobeMed is a national organization that is focused on providing university students with the opportunity to tackle global health challenges as well as impact health equity around the world. The organization approached my peers and I and asked us to create a poster designs that could be hung in universities to inspire and promote health equity, social justice, and GlobeMed.
After speaking with a GlobeMed representative to understand the GlobeMed brand and mission I started my design process by creating twenty-five different sketches of various poster designs. The sketches were very quick and rough visualizations of ideas. I then presented my ideas to my peers and received feedback that helped me narrow my design ideas down to a group of five potential designs.
Illustrator Mockup
Next, I iterated upon the ideas by creating several black and white mockups within Adobe InDesign. These mockups where then critiqued by peers and I iterated upon the mockups to improve my visual design and message. Based off of this critique I decided upon a final design to pursue.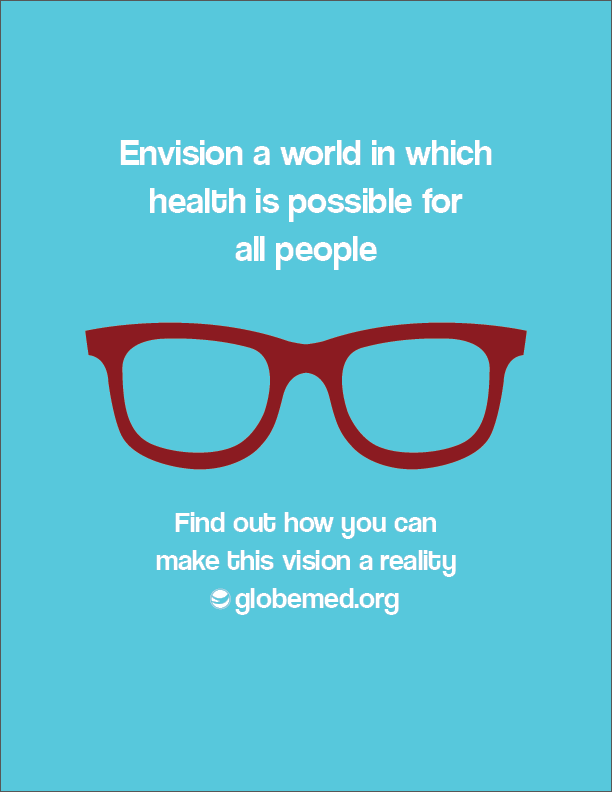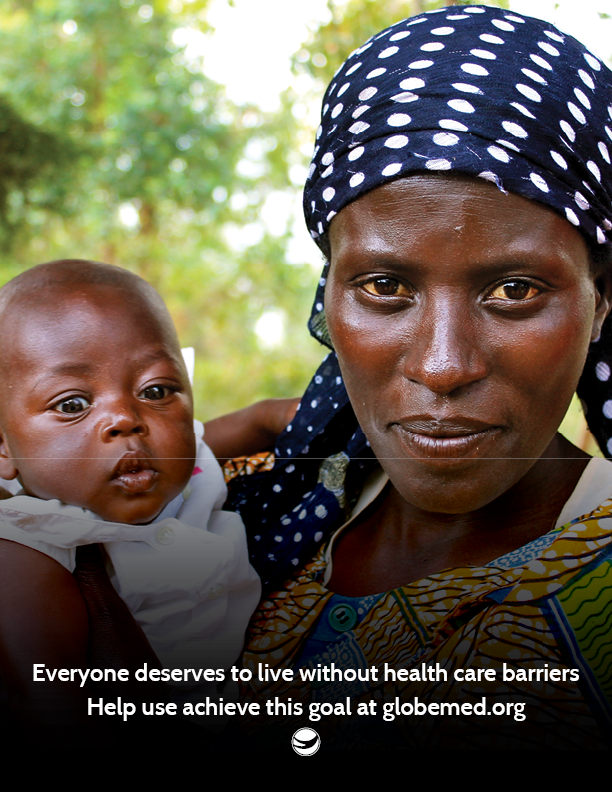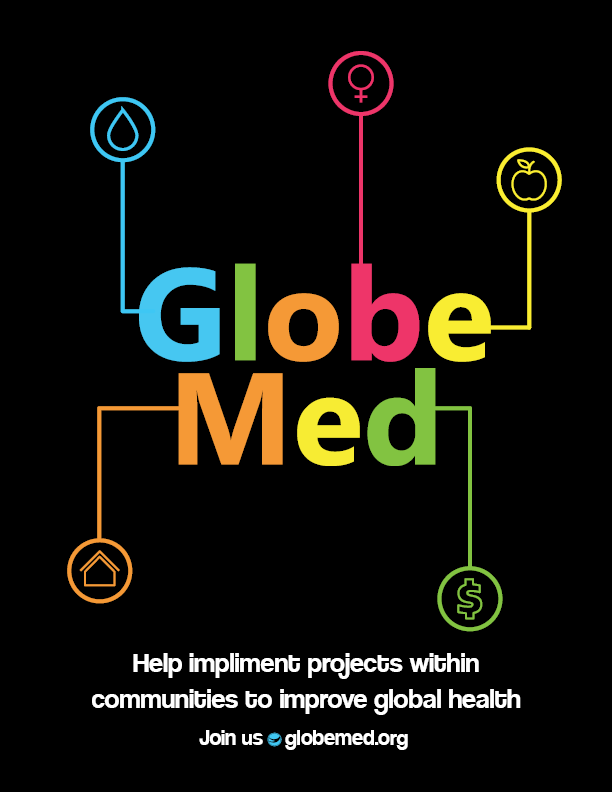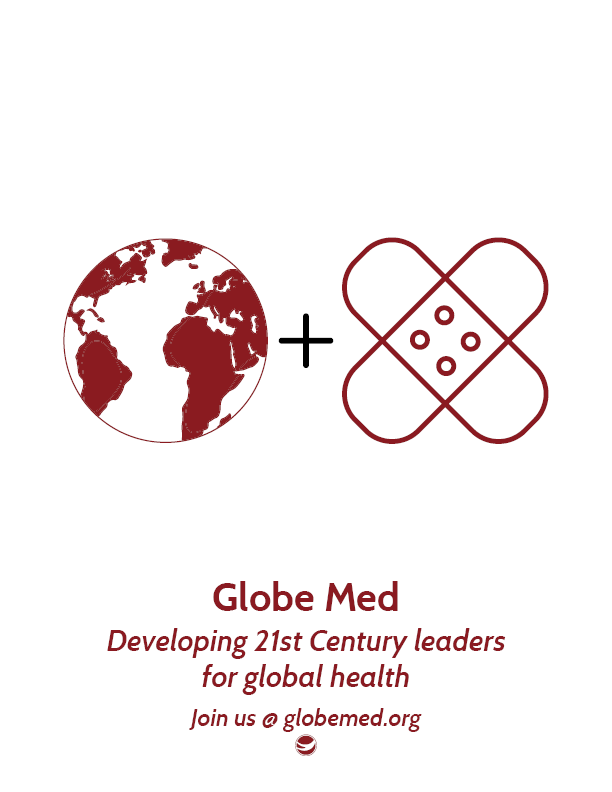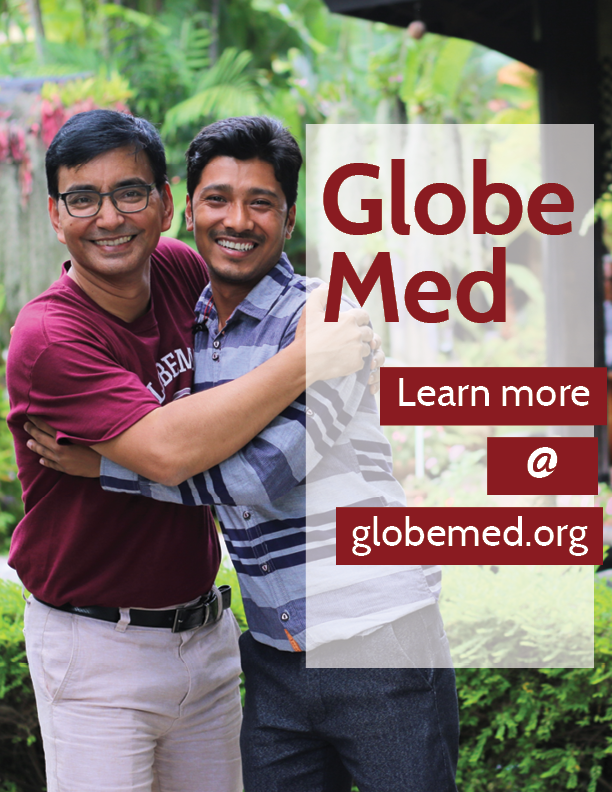 The design that I refined is a pair of glasses surrounded by the words: Envision a world in which health is possible for all people. Find out how you can make this vision a reality at globemed.org. The message is based off of GlobeMed's vision statement, which states "We envision a world in which health - the ability to not only survive but thrive – is possible for all people." I was intrigued by the idea of looking into a future in which health barriers do not exist. This idea reminded me of a view-master that I had as a child. The view-master allowed me to flip through images from a different time, usually when dinosaurs roamed the earth. I wanted to combine GlobeMed's vision statement with the functionality provided by the view-master to create an interactive poster with the capability to draw people into a time when health is possible for all people.
Prototyping
I started to construct my design by modelling the functionality of the view-master through utilize foam core and pencils. I tried out several different gear designs and eventually settled on implementing two different gears that interlocked and spun together. The gears have pictures pasted upon them that display what a world with health equality would potentially look like.
High Fidelity Mockup
After prototyping my design with foam core, I set out to turn the prototype into a 32" X 40" full color poster. I began by utilized the CNC router in Northwestern design shop to cut out the lens' of the glasses. I then operating a laser cutter to construct the gears. Both the gears and the lens piece were then stained, so that the glasses and the text could be visible on the poster. After the stain dried, I screen printed the words and the glasses' outline onto the wood and pasted the photos onto the gears. I then brought each of the pieces together utilizing wood glue and dowels for the gear to create the finished poster. I concluded the project by presenting the poster at a class open house with GlobeMed, where the design was well received and enjoyed.